How well do you understand your customers? Are you able to provide products that appeal and meet their preferences? Can you track the traffic head count to your store or to measure campaign hit rate by the number of customer turn-outs at your store?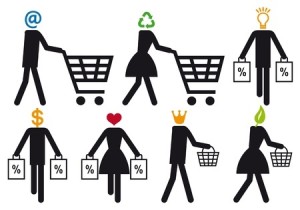 Shopper Behaviour Insight is akin to analysing the click -through behaviour of visitors to your website, except that in this case, it applies to shoppers walking into the "brick and mortar" store.
The analysis of the footfall or in-store analytics, reveals information as to how shoppers spend time in your store, their preferred time of visits and their browsing behaviour. This will help you deliver the best in-store experience for the shoppers by offering better merchandise mix and optimizing the shop layout, thus achieving higher conversion rate for the retailers.
Whether a marketing campaign is effective is determined by the volume of shopper traffic drawn to the store. Shopper Behaviour Insight not only tracks the number of shoppers to the store but it also monitors the shoppers' behaviour by observing the dwell time which is the time shoppers linger on in each defined zone within the store. It also assesses shoppers' responses to specific in-store static and electronic marketing elements such as posters, POP (point-of-purchase) and digital media advertisements.
Retailers sometimes think that once they have drawn the shoppers to the store, they have done their job. By understanding the dwell time will serve to improve the shopper's experience and ultimately the sales.
As demographic varies from store location to location, results can be compared between stores to test the various marketing concepts and select the appropriate marketing approach to implement.
Without a good understanding of the shoppers' behaviour, what you are missing out are great opportunities that could have been translated into sales at your POS (point-of-sales), but instead they just "walk out" of your stores without you even knowing it.
Key Benefits
Shopper Behaviour Insight helps to:
assess shoppers' responses to in-store marketing display signages
use store traffic patterns to optimize digital sign placement
assess shopper preferences towards merchandise assortment
assess passing traffic outside store and dwell time at window display
assess effectiveness of the window display
track queuing and service metrics for a better shopping experience
assess employees' attentiveness and staff optimisation
measure conversion rate
Agile Insight Pte Ltd
1 Raffles Place #44-02
One Raffles Place Tower One
Singapore 048616
T : +65 6750 4760
To find out more, please go to the following: